With climate change potentially causing more severe weather, a UM geographer looks at strategies to improve evacuation assistance.
Shivangi Prasad knows intimately the diverse population found in the narrow stretch of land between Florida's Atlantic coast and the Everglades to the west. She also knows what can affect the population's odds of survival in the face of a natural disaster—social characteristics such as whether you're rich or poor, young or old.
Understanding these qualities will be especially relevant with looming climate change and sea-level rise in the region. Climate change is very likely to exacerbate severe weather, the frequency and intensity of hurricanes, and the resulting flooding from coastal storm surge.
"As a scientist, I am concerned about climate change. I am also a stakeholder, living in South Florida for nine years and in a 100-year floodplain zone," said Prasad, a lecturer in the Department of Geography and Regional Studies at the College of Arts and Sciences.
A 100-year floodplain zone is based on the probability of a flood occurring in any given year. Climate change and sea-level rise in South Florida could reduce the return period of 100-year floods to less than 50 years.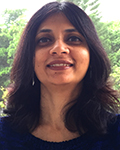 In her latest research published in Applied Geography, Prasad applied a thematic mapping technique to census data maps within the 100-year floodplain zones of Miami-Dade, Broward and Palm Beach counties. This technique provides a more accurate assessment of floodplain population distribution and therefore a more precise picture of evacuation assistance need within the floodplain population. Prasad measured four key indicators within the research study area: poverty, lack of personal transportation, age and mobile housing.
Through her research, Prasad hopes to improve the mitigation and response strategies to severe weather and natural disasters.
A geographer by training, the hazards and risks specialist has a passion for understanding the human and social dimensions of vulnerability, with an overarching aim to inform local emergency management and policymaking. Historically, there has been a greater emphasis on improving flood control structures rather than incorporating social vulnerabilities into evacuation assistance planning and implementation. This is because levees and other man-made flood control systems provide a sense of security. As evident from Hurricane Katrina, however, these structures can fail. A holistic view of evacuation assistance need, coupled with clear communication of risk, is crucial to saving lives in natural disasters.
Her research highlights the importance of considering concentration of need as well as volume of need. Though there may be a greater volume of evacuation assistance need along urban, coastal areas, there is a higher concentration of need in remote, rural areas. The absolute number of people in need of assistance should be considered in conjunction with the percentage of population needing evacuation assistance.
"It comes down to management and allocation of resources. You can assist 500 people or 100 people. But those 500 socially vulnerable people may represent 10 percent of the urban, coastal population whereas the group of 100 people represents 100 percent of the inland, rural block group population."
Though detailed evacuation plans are already in place for less socially vulnerable populations in storm surge areas along the coast, there is still a gap in assisting those in outlying, inland areas.
- Jessica M. Castillo / UM News