Sea Secrets

In the annual lecture series Sea Secrets, experts in a number of fields discuss topics from climate change and extreme weather to sharks and paleoclimate.
An integral part of the University of Miami's mission is to communicate the latest scientific research to the broader community.
Each year, the Rosenstiel School of Marine and Atmospheric Science and The Ocean Research and Education Foundation host Sea Secrets, a lecture series that provides insight and information about our planet to a non-scientific audience.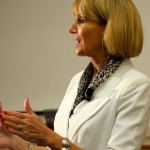 In 2016, Sea Secrets invited the South Florida community to meet distinguished scientists including Marcia McNutt, editor-in-chief of the journal Science and president-elect of the National Academy of Sciences, to learn about the impact climate change is having on our oceans. The oceans on Earth are absorbing large amounts of atmospheric CO2 and heat from climate warming. The resulting acidification and warming of the oceans are changing the chemistry, water circulations and ecosystems in ways that impact the services that oceans provide to humans. McNutt also addressed the complexity of choices society has to respond to climate change, including mitigation, adaptation, and intervention.
Rosenstiel School Ph.D. candidate Arash Sharifi also gave a Sea Secrets talk to the community about how scientists reconstruct climate conditions of the past, and the results from his recently published study that revealed that some of the earliest civilizations in the Middle East and the Fertile Crescent may have been affected by abrupt climate change.
The 2016 Sea Secrets lecture series kicked off with a talk by Bryan Norcross, senior hurricane specialist at The Weather Channel, who discussed advances made in tracking hurricanes over the years and whether the proliferation of social media and 24-hour news cycles help in communicating a hurricane event, or hinder it.
These talks and others provide the larger South Florida community with the latest science on climate and the oceans to help better prepare as a society for the future as the climate changes.
- Rosenstiel School
About the Photo
The Rosenstiel School sponsors an annual underwater photography contest. This is the 2016 winner by Beth Watson. Click on the image above to see the full photo.