Haiti.Initiative.Charrette_slider - copy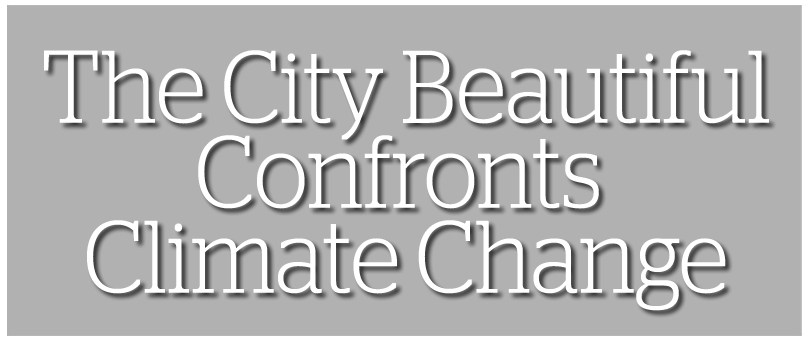 While Miami is considered "ground zero" for climate change, Coral Gables' mayor says residents need to be aware of the growing threat locally.
Sitting in his office in the Mediterranean Revival-style City Hall, Mayor Jim Cason wonders aloud whether rising seas will one day submerge the historic limestone building and downtown Coral Gables.
"We've got some time here, though, at nine feet above sea level," says Cason.
Other areas in the city won't be so lucky.
Sea-level rise in South Florida will mean saltwater seeping in from the Atlantic Ocean to the east and from the ground below, through porous limestone analogous to swiss cheese. Spreading out elevation maps of the University of Miami and the City of Coral Gables, the mayor points out areas in the city that are most vulnerable to climate change—schools, water and sewage plants, coastal residential areas. Most places lying below four feet above sea level.
Coral Gables has 47 miles of coastal property along rivers, canals, and Biscayne Bay totaling at least $3 billion in assessed value. Losing these areas to climate change would mean huge losses to the city's tax base. The city could even receive low ratings by bond-rating agencies if it can't demonstrate that it is preparing effectively for the damaging effects of climate change, the mayor says.
About the Photo
Coral Gables Mayor Jim Cason, with local icon The Biltmore Hotel in the background, described how he is preparing his city for rising seas.
The city has already established a Sustainability Task Force and is currently drafting a ten-year Sustainability Plan using an estimated 51 inches—over four feet—of sea-level rise as a benchmark in their mitigation and adaptation strategies. Cason, first elected in 2011 and in his third term, is also adamant about engaging with other mayors across the country on how each is tackling one of the most pressing issues facing present and future generations.
Coral Gables is working to implement building codes that will strengthen properties in the face of greater climate change and variability. City officials are also encouraging residents to reduce their carbon footprint by taking small but cumulatively important steps at home and in their daily lives. Retrofitting windows to be high-impact resistant, using public transportation and bicycling, and considering home renewable energy sources such as solar panels and composting.
"We're working hard to create solutions until we inevitably must retreat," Cason says.
Despite the prospect of the City Beautiful sinking like Atlantis, Cason remains optimistic that strategies and technologies will develop to stem the tide of climate change. "If all else fails, we can ride along the swollen canals in gondolas like back in (Coral Gables founder George) Merrick's day."
The fabric of Coral Gables and UM are tightly interwoven. Both the city and the academic institution were founded by George Merrick in 1925; one-third of Coral Gables residents are UM graduates; and the University makes up a sizable portion of the city's economy. Cason is excited to continue collaborating with UM on promoting greater awareness of climate change and what sea-level rise means for South Florida.
Cason would like to see a continuing community dialogue on the issue of climate change and sea-level rise, much like three community meetings held earlier this spring where scientists and city officials looked at impacts and solutions to the problem.
- Jessica M. Castillo / UM News