UM community dishes out treats and information during Food Day 2017.
As the clock struck 1 p.m. on Wednesday, October 25, campuses around the nation celebrated Food Day by biting into an apple at the same time to raise awareness of healthy eating. Here in Miami, however, apples do not grow naturally, so University of Miami students, faculty and staff bit into a tasty dragon fruit as a part of the UM Food Fair.
The Food Day 2017 events, which have been organized annually by the Office of Civic and Community Engagement in collaboration with the Butler Center for Service and Leadership and Green U since 2011, began Tuesday night with a keynote talk by renowned writer, activist and food security expert Raj Patel. On Wednesday, student organizations, University departments and community partners gathered for the annual Food Fair to expose students to food issues that affect all of us daily.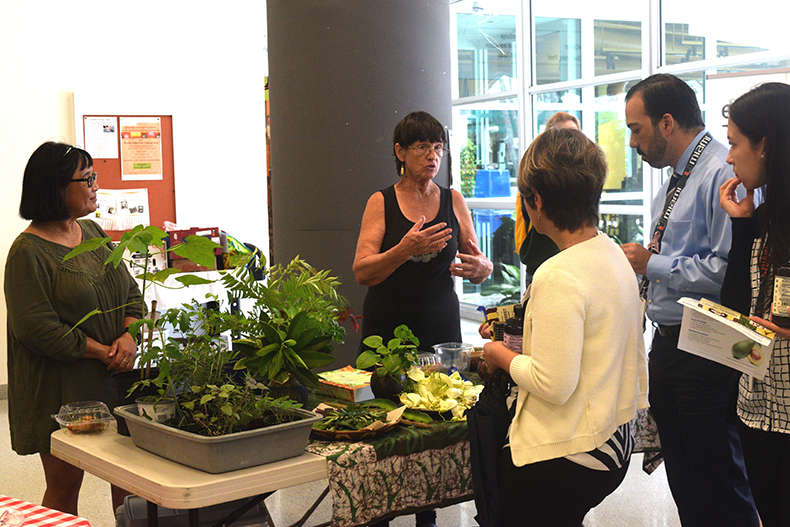 "Food Day is not only about healthy eating," said Teddy Lhoutellier, UM's sustainability manager, who oversees the Green U Office's efforts. "We engage people on organic, local, fair trade food; food waste management; community supported agriculture; community gardens; and food donations. It's actually about the whole spectrum of food integrity."
The organizations and community partners at the event, Lhoutellier explained, advocate for living in environmentally friendly ways and are committed to providing alternatives to the way our current food system grows, distributes and wastes food. Each community partner offered something unique regarding nutrition in South Florida. The Food Recovery Network promoted its mission to decrease food waste and end hunger in the region, Common Threads highlighted the importance of cooking as a life skill, and The Fruit & Spice Park offered samples of exotic fruits and vegetables.
More than ever, student involvement this year was critical to the event's success. The ECO Agency student organization participated with the goal of encouraging students who had never tasted vegan desserts to sample its vegan cookies and brownies as proof that dairy is not necessary to make their favorite treats delicious. ECO also had a group of freshman representatives who made organic smoothies and buckwheat crepes to show the ease of preparing healthy food options.
Plant Based Canes, a student organization started last year by senior Natalie Hickerson, quickly ran out of its vegan pumpkin cake pops. Yet the students continued to table for their organization, which educates people about the impact of animal products on the environment, and hand out infographics detailing the benefits of a meatless diet. The CommUnity Garden Club was recruiting members for the new food garden being designed for next spring in the UM Arboretum.
Most every environmentally conscious organization on campus was involved in some way in the Food Day festivities, all with a common cause to make campus just a bit greener.
"This leadership position allows me to spread my passion for the environment and promote sustainability," said freshman ECO Agency representative Alexis Cambridge, and whether that means providing students with tips on how to reduce their environmental footprint or making spinach and mango smoothie samples, she does it with a smile.
— Aaliyah Weathers / UM News